DBT is research-focused. When you buy through links on our site, we may earn an affiliate commission. Learn more
Every service has pros and cons; today, we'll cover some of the most remarkable positive and negative aspects of their Total Protection packages.
Are you tired of being worried your next click will be the one that puts a virus on your computer?
Do you worry that your identity isn't safe enough when using your phone to make purchases?
If you are like me, you know it's a dangerous time to use the internet unprotected.
From identity theft to spyware and ransomware to viruses, there are a lot of threats to your online safety.
There are also a lot of choices when it comes to protection from those dangers.
In our McAfee Total Protection review, you'll learn what they offer and if it is right for you.
What is McAfee Total Protection?
McAfee Total Protection takes up where simple virus or malware protection programs leave off, expanding antivirus software safety to other areas, like your privacy and identity.
It's available for individual devices, multiple devices, and families.
You can use it on most devices, tablets, laptops, and desktop computers as well as with many Mac, iOS, Android, and PC operating systems.
McAfee Total Protection Features
McAfee Total Protection comes with several features, including Web Advisor and PC protection.
Below, we'll list all of the features that come with this antivirus product.
How Much Does it Cost?
You need to decide the level of plan that you need to determine how much McAfee Total Protection will cost you over a year.
Depending on how many devices you need to cover, you can purchase Individual, Multi-Device, or Family level plans, which are two-year subscriptions to the service.
The rates listed are what you pay for the first year of coverage. You will be charged the initial amount listed, but your renewal cost is subject to change.
Renewals are charged at the current rate when the plan is up for renewal. However, rate changes are announced in advance.
After your second year, unless you live in Vermont, you are automatically signed up to renew annually at the current rate going forward.
That auto-renewal also makes you eligible for their guarantee to remove viruses or your money back.
All plans offer not only safe web browsing and encrypted storage, but also their award-winning antivirus, performance optimization, home network security, security experts and online support, a password manager, and McAfee Shredder.
FAQ's
People ask a lot of questions about McAfee, so we've put together the best answers to the most frequently asked questions for you.
McAfee is one of the oldest names in virus protection, and it's still a well-known and respected company.
No service is perfect, of course, but they are trustworthy and legit.
Yes, in fact, they pledge to remove viruses or your money back if you have auto-renewal.
That depends on the plan that you choose. Single device plans cover one device, multi-device plans cover up to five devices, and family plans cover up to ten devices.
Laptops, desktops, most smartphones, and tablets are compatible with McAfee Total Protection.
As for operating systems, the compatible operating systems include:
Microsoft Windows 10, as well as 8, 8.1 and 7 SP

Google Android phones and tablets 4.1 or higher

Apple iOS 10 or later

Mac OS 10.12 and 10.15
Who Should Use McAfee Total Protection?
McAfee Total Protection is for people who own devices and use the internet.
If you shop online, use email, surf the web, or use social media, you should have a great virus protector at the very least.
McAfee's auto-renewal makes it perfect for people who may forget to renew in this busy world.
Final Verdict
McAfee Total Protection amps your virus protection up and keeps you safer on the internet.
These days, the added identity protection in their higher-level plans is a must to have, and a great perk of their program.
You can trust McAfee; they're an industry leader and innovator.
The many features and wide array of compatible devices and operating systems also make it a near slam dunk for covering your home, whether you love iOS or Android, PC, or Mac.
Keeping your email spam-free and your computer running at peak speeds are also winners.
No program is perfect, and as viruses are ever-changing and new ones are continually coming out, there's always a chance at getting one.
However, their "viruses removed or your money back" promise makes this a great product.
Go check out McAfee Total Protection today, and get some peace of mind.
Defend yourself and the entire family against the latest virus, malware, spyware and ransomware attacks while staying on top of your privacy and identity.
---
McAfee Total Protection vs. Alternatives
---
McAfee Total Protection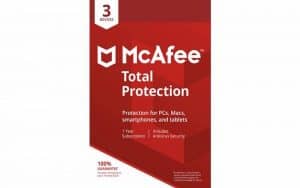 McAfee Total Protection offers safe web browsing as well as virus and identity protection to consumers.
Product Brand: McAfee
Product In-Stock: InStock